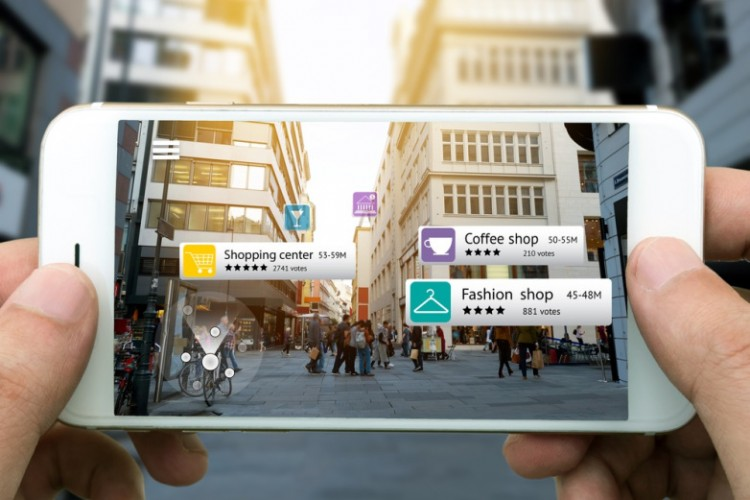 With a seemingly never-ending stream of stories about the troubles of high street stores, it's clear that for many, the current retail model is not working. In the UK, Homebase recently announced the closure of up to 80 of its stores, while House of Fraser was saved at the last minute from imminent collapse. So what can retailers do to bring their stores into the 21st century? Perhaps augmented reality is the answer…
The growth of AR
The global market for augmented reality (AR) is forecast to grow to £149bn by 2025, with recent developments such as the launch of Google Lens, ARCore and Apple's ARKit2 making this immersive technology more accessible than ever before. But despite that, take-up by retailers has been relatively slow.
With the retail industry in the throes of change, stores have little choice but to innovate to survive. Brick-and-mortar stores are being left behind by the convenience and simplicity of online retailers, but augmented reality could be the trick up their sleeves to help drive footfall in their stores.
Consumers expect retailers to launch AR apps
Outside of retail, the potential for augmented reality is already being explored. The gaming and entertainment industry are at the forefront of creating unique AR experiences, with the Pokemon Go craze that swept the nation in the summer of 2016 showing the scale of what can be achieved.
In contrast, retail has taken a much steadier approach to integrating technology into the customer journey. One of the earliest adopters was the flat pack supremos IKEA, with the launch of IKEA Place, which gives users the opportunity to visualise what IKEA furniture will look like in their home before they make a purchase. It has been extremely well-received by its customers.
But despite the success of IKEA's foray into AR, it still remains one of just a handful of stores that are currently using immersive technology to enhance the customer experience. That's despite the fact that 42 percent of consumers expect to be given access to augmented reality in stores and 71 percent said they'd go to a specific retailer more often if they offered AR tech.
The time is now
Coupled with ever-falling footfall and increased consumer demand for AR in stores, it's clear that retail businesses are under pressure to implement the new technology now. A recent survey conducted by Retail Tech News found that a third of consumers believed AR technology could help to streamline their shopping experience and remove some of the friction that prevents a purchase being made.
In fact, more than half of the consumers surveyed said they would like to be provided with relevant and contextual information about a product in-store simply by pointing their phones at a product. With demand clearly there, the challenge for retailers is to work out how AR can be most effectively incorporated into the customer's journey.
Potential AR applications in retail
Giving customers information about products
One of the most obvious applications of AR in retail is to provide an information overlay for products that consumers can access using their smartphones. By pointing their phones at a particular product, customers will be able to compare prices, see additional features and highlight options based on criteria. For example, grocery shoppers with dietary requirements could use AR to pick out gluten-free or vegetarian alternatives.
Allowing shoppers to try before they buy
AR is an effective way to give customers the chance to try different products before they buy. For example, L'Oreal has launched its Makeup Genius app, which turns users' smartphone cameras into mirrors. Customers can then virtually try different L'Oreal makeup products before they make a purchase.
Similarly, a number of LEGO stores now include kiosks where customers can scan the boxes to see a 3D projection of the particular set.
Providing personalised offers
Augmented reality also gives brick-and-mortar stores the opportunity to take advantage of personalisation strategies usually associated with their online rivals. Retailers can use the insights gained from customer data and past behaviours and patterns to generate personalised offers which are tailored to individual shoppers. There's also the potential to create 'shoppable' AR experiences, which allow customers to buy directly from the AR activation, although that technology is still in its infancy.
Steal a march on your retail rivals
The increased focus from tech giants like Apple and Google and an ever-more accessible infrastructure mean augmented reality is set to become an accepted part of mainstream life. With the high street tough for many brick-and-mortar stores, retailers can steal a march on their rivals by adopting AR technology now, before it's too late.
To discuss what augmented reality applications could do for you, please get in touch with our team today.