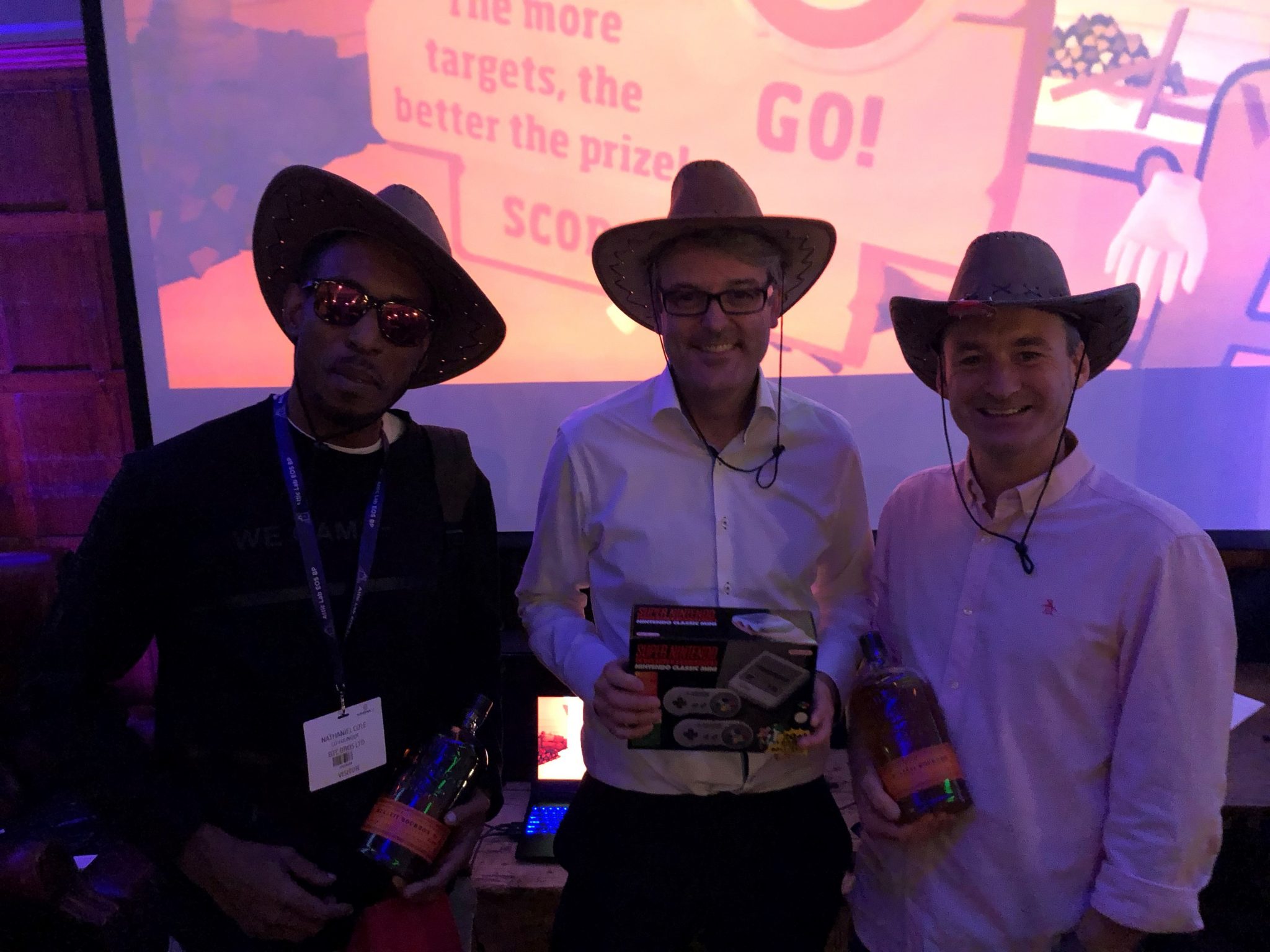 Last week,  Austella – in conjunction with BlockV – held a successful showcase event for the Ad:Tech Expo at Olympia.
The aim of the showcase was to demonstrate how digital assets tracked on the blockchain can transfer between augmented reality to virtual reality, updated based on the players performance in the VR experience, before delivering back to the user so they could exchange the digital asset for a real world object.
A VR target shooter game was developed, a simple game that pitted players against a number of rapidly moving targets. The scoring mechanic was a straightforward one – the more you hit, the higher the score, and chaining targets together without missing applied a score multiplier.  Visitors to the event were given the task of collecting digital coins from their surroundings using augmented reality with the SMTs app. These coins could then be used to 'pay' for the VR shooter game, a virtual version of a coin-op arcade if you will!
The score achieved by the player determined whether they received a bronze, silver or gold sheriff's badge delivered to their virtual wallet within the SMTs app. Players achieving the gold badge also received a virtual cocktail which could then be used to pay for a real cocktail at the bar. The bar had their own SMTs wallet that was used to take receipt of the cocktail SMT. The inherent security associated with blockchain meant that even the most sneaky techie looking for free drinks could not dupe the system!
This was a simple but effective method of demonstrating the transportability of digital assets using blockchain. The next level of complexity that we'll demonstrate at an event in the near future is incorporating real world assets in the virtual world. As an example, take a darkened maze VR experience, to successfully complete the maze the player will need a torch which is not available within the VR experience. Instead the player would have to scan a torch in the real world with their phone, put on the headset and take out their virtual phone (that 100% mirrors the content on their physical phone) and pull out the touch you've just scanned!
Commenting on the event, Lukas Fluri, CTO of BlockV "For the first time, virtual objects — SMTs — can come alive to provide a vivid experience layer for the blockchain by transforming static objects into dynamic virtual goods that are individually owned. Yours to share, trade, sell, redeem, gift, collect, or admire. The BLOCKv platform enables the creation of SMTs, a new digital asset class that bridges the gap between physical and digital worlds, generating one-to-one experiences and creating new levels of engagement. The experience developed by Austella was a resounding success and very visibly demonstrated our ambitions"
To find out more about how blockchain can be implemented for your business, please get in touch with our team!